SoCal Trombone Day is excited to announce that Alan Kaplan has been added to our 2020 Guest Artist roster!  Alan will give a master class, and perform on the finale concert, as a featured soloist with Bones West.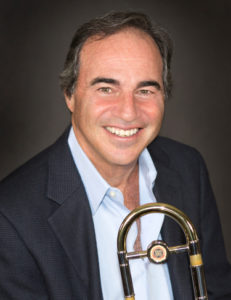 Alan Kaplan has long been one of the top studio trombone players in Los Angeles. His recording credits vary vastly from Marvin Gaye to Johnny Mathis to Madonna to Placido Domingo to Sarah Vaughan to Oingo Boingo to Whitney Houston to the Hollywood Bowl Orchestra, Josh Groban, Michael Buble, Paul McCartney, Bob Dylan, Lady Gaga, and countless more. He has played on the scores for nearly 1000 movies and thousands of television episodes.
Throughout his career, Alan has performed and recorded with Frank Sinatra, Barbra Streisand, Harry Connick, Boz Scaggs, Cheap Trick, Tony Bennett, Tower of Power, Josh Groban, Michael Jackson, Celine Dionne, Madonna, The Who, Elton John, Spinal Tap, and many, many more.
His movie credits are perhaps most impressive of all, a list of some 1000 plus films including "Animal House", "Airplane", "Dances with Wolves", "Out of Africa", "Sleepless in Seattle", "Beauty and the Beast", "Hercules", "Apollo 13", "The Lion King", "Con-Air", "Batman and Robin", "Silverado", "Godzilla", "Zorro", "Planet of the Apes", "Spiderman 1,2, and 3", and "Men in Black 2", "Pirates of the Carribean 1,2, and 3″,"Star Trek XI","The Incredibles 1 & 2″,"Up", "Transformers 1&2″ ,"Mission Impossible 4″," Star Trek"," Rise of the Planet of the Apes", "Inside Out", "Tomorrowland", and " Ted", "Ted 2",  "Star Wars Rogue One", "Spiderman 4", "The Dark Tower", "Jurassic World", "Spiderman Homecoming", "War for the Planet of the Apes", "Coco", "Ready Player One", "The Greatest Showman", "Lego Movie 2″, " Ralph Destroys the Internet", "Alita; Battle Angel", "Frozen 2", "Men in Black: International",  "Spiderman: Far From Home", "Soul", "Onward", "Bad Boys For Life", and "An American Pickle"  to name just a few.