SoCal Trombone Day has been rescheduled for April 23, 2022, with featured artist, Mr. Alex Iles!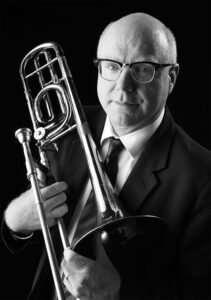 It is hard to imagine a trombonist with a more diverse or successful career than Southern California's own Alex Iles!  With literally hundreds of studio credits to his name (including massive blockbusters, like many of the Star Wars and Star Trek movies), Alex is truly a trombonist whose playing has been heard by all.  When he's not creating the big trombone sounds that light-up epic on-screen action, Alex can also be heard as the principal trombonist with the Long Beach Symphony, or in any number of local clubs, performing or recording with the likes of Bob Florence's Limited Edition or the Tom Kubis Big Band.  Ever watched the Golden Globes, Academy Awards, or the Emmys on TV?  You probably heard Alex there too!
Here's a bit of silliness, and a whole lot of great playing.  Listen to Alex with LA Phil trombonist, Jim Miller, in the video below!
Also an active voice in the trombone community worldwide, those outside of the LA area will also recognize him as a frequent performer at the International Trombone Festival.  Check out the video below, from a 2017 ITF collaboration with Carol Jarvis and Chris Bill, in which Alex pulls off an insane guitar lick from Journey's Don't Stop Believin'!  He comes up at 1:30!
What just happened?!  We don't know, but it was amazing!  If you want more, he's another ITF Collab, with Alex going full out – listen for mad distortion and epic guitar-ness!
Alex is also active as a teacher, and has served as a faculty trombone and jazz instructor at the California Institute of the Arts, Azusa Pacific University and California State University, Northridge.  Currently, he is also very active as a moderator for online trombone and pedagogy forums, where he frequently lends his voice to important causes, like diversity and inclusion in music and music education.
Here's Alex giving some tips for playing by ear:
What will Alex do at SoCal Trombone Day?
Attendees will get to see Alex in a live solo performance, and attend his afternoon master class.  Mr. Iles is very approachable and open to sharing his ideas and expertise – we know everyone will benefit from meeting him and hearing him play!
For more about Alex Iles, check out his website.
See you at Mt SAC on April 23, 2022!

Alex Iles is sponsored by Schilke Mouthpieces, and Greenhoe Trombones.