High school students are invited to compete in the SoCal Trombone Day High School Trombone Quartet Competition.  
The winning group will receive a check for $200 (as a donation to their high school band program), and have the opportunity to perform during the Trombone Day Finale Concert, featuring Bones West and guest.  All participating groups are invited to perform as a mass ensemble on the Trombone Day finale concert.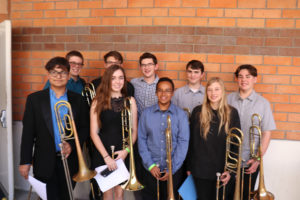 Rules:
In order to compete, ensembles must be a complete trombone quartet (4 trombonists, any combination of bass/tenor), comprised of high school students (college students are not eligible).  Trombone Day does not organize quartets to compete – groups are pre-organized by students, and/or sponsoring band directors or private teachers.  A group may be comprised of students from different schools.
All quartets must prepare two pieces:

Required repertoire: DOWLAND, FINE KNACKS FOR LADIES Fine Knacks Bones – Score and parts
Choice piece: Each group will compete on a piece of their choosing, in any style, not to exceed 3 minutes in performance length

All quartets will perform the required repertoire together, as a trombone choir, during the Trombone Day Finale Concert.  The winning group will perform their choice competition piece.
All quartets will receive comments from the judges.
Competitors receive a discount on Trombone Day fees.
Trombone Day has the right to limit the number of competitors, based on scheduling requirements.
To register for Trombone Day and the Competition, email Len Wicks, at len.wicks@yahoo.com.
See you at Trombone Day!